Euphoric. Unreal.  Ridiculous. Life changing.  I'm almost doing our experience a disservice by trying to put this weekend into words.  The past three days at Jay have been the best skiing of my life.
It all started Thursday night when Rob and I left Boston and made record time to Jay Peak in search of the forecasted storm.  We awoke to disappointment–no snow. Yet.  We met up with a few of Rob's friends, and hit the glades for a typical day at Jay.  It was tracked, but good snow.  It finally started snowing around noon and by mid afternoon it was puking huge flakes.  For our last run, four of us headed for Big Jay where we got some sweet fresh tracks.
As we pushed cars up the access road to get by, little did we know the weekend was just getting started.  The glades were starting to fill in as Rob and I ran to the Flyer for last chair.
That evening we made a rendezvous with the rest of our crew as they headed up in the storm.  The final tally was seven of us, including me, Marshal, Sweeney, Rob, Alex, Deb, and Denaro.  We woke up in a rush at the dark hour of 6 am, wide-eyed and pow-hungry.
After shuffling cars at the mountain we hopped on the lifts and scattered, everyone happily enduring 50 mph gusts on lift-rides for the blissful two feet of snow on the ground, and counting.  The wind actually helped fill in the tracks, so it was almost constantly fresh.  I skied The Orchard which was almost entirely untracked, and then we grouped up and headed for The Dip.
The snow just kept piling up, and we were just getting more amped as the day wore on.  Around three we made what was in hindsight a bit of a bonehead decision.  We gathered our packs and started hiking for Big Jay.  Before we left the resort, Marshal turned around and said he'd meet us back at the lodge.  Most of the group had skins, but Denaro and I were going to have to boot-pack.  After some deliberation we embarked on what became our Big Jay adventure.
The boot pack was tolerable, and we were making good progress, but began encountering issues when Sweeney's skins fell off, and he started hiking instead.  As we approached Big Jay the drifts got deeper, and the snow was not letting up.  I was post-holing occasionally, and in a few spots we gave up and crawled to avoid breaking through.  We transitioned, determined the group order, and made a concentrated effort to stay together.  As we descended, the light began to fade, and most of our goggle lenses became too dark to use.  A few of us spent some time wallowing and righting ourselves in the chest deep drifts.  At one point I went to stop behind Sweeney, but my tips bounced  off an icy rock and I rolled into a ten foot deep tree well.  I was surprised I kept my cool, but it took a lot out of me as I swam up out of the snow and then Sweeney lent me his poles for support to hoist myself back onto stable snowpack.  Needless to say I plan to avoid any future encounters with trees, or tree wells.
I'm sure each of us managed a few good turns, but in the end it was too darn dark to pick up any speed.  We utilized Rob's GPS to stay on target, and keep heading out towards the car.
By the time we reached the bottom and began traversing, we were skiing by moonlight.  We had a few headlamps with us, but the rest  of us were forced to keep an eye on the blurry dark shadow of the person ahead.  No one had any major mishaps, but at one point Sweeney made a turn and dissappeared into a stream bank in a cloud of snow.  Not much further on Deb got caught in a ditch, and then Denaro and Sweeney found some open water, which instantly froze to their skis and began gripping the snow like climbing skins.  Finally, we were out on the road, where we skied back to the car by 6:30.  It was buried so we whipped out an avy shovel and began digging and clearing it off.  As this was going on, a pickup rolled by and kindly offered to tow us out, and asked where we were headed.  We were mostly clear so we declined, but he proceeded to inform us that a tour bus had wedged itself on 242 from guardrail to guardrail only an hour or so beforehand, and they were bringing a wrecker and a tow truck up the pass to unstick it.  Needless to say, there was no going that way, which meant the ski boots were staying on for the foreseeable future.  The 6 of us piled into Rob's car and navigated a route around.  Unfortunately the route included a road closed for winter, and the only other way would've taken us 2 hrs to get back.
What we needed was a snack break, so we pulled into the local grocery store in Montgomery.  All the back doors of the car were frozen shut, but we managed to grab the attention of two guys walking by to open up the trunk for us.  As we stumbled out I realized one of our saviors was an old high school teammate of mine! What are the odds?  We chatted briefly, but I'd gotten food on my mind and needed some asap.
With the goods acquired, we decided the only sensible thing to do is head back up the pass and wait for the bus to get towed.  We made it halfway before Rob's car could no longer make forward progress.  Alex and Denaro tossed out ideas and saved the day: we started making rearward progress.  Rob turned the car around and backed uphill mostly blind. And it was STILL snowing.  At the top we found a few cars and emergency vehicles.  Sweeney and Alex decided they were going to go on ahead and ski/hike the road back down to Jay.  Just as we got all the gear back out of the frozen Thule, the bus was freed!  Back in the car, it was time to drive to the lodge.  We followed the snow plow, but even so, as we crested the pass, there was so much snow on the road it was flying over the windshield. Car faceshots!
Back at Stateside, we found Marshal, only 5 hours later, who we kindly left without keys or boots.  After a quick change we dug Alex's car out and left Jay, over 14 hours since we'd arrived.  Jay was reporting 35″ on the ground as of 7 pm.
On Sunday, we were rewarded.  Even though I almost didn't want to get out of bed, once we got to the mountain, we were lifted.  It was in the teens, Sunny, and there was 47″ inches of fresh pow on the ground.  My legs were burning on our first run, but then we hit the jackpot.  We started lapping the Dip, getting fresh tracks every run.  You could do no wrong.  We found some cliffs to huck, steep trees–everything was skiable.  We hiked back up the access road a few times, grins on our faces the whole way.  Several kind gentlemen let us pile into the bed of their trucks and drove us back.  It was unreal.  There were bottomless drifts, and everywhere you went you were floating on air.
Cue Sweeney's camera work.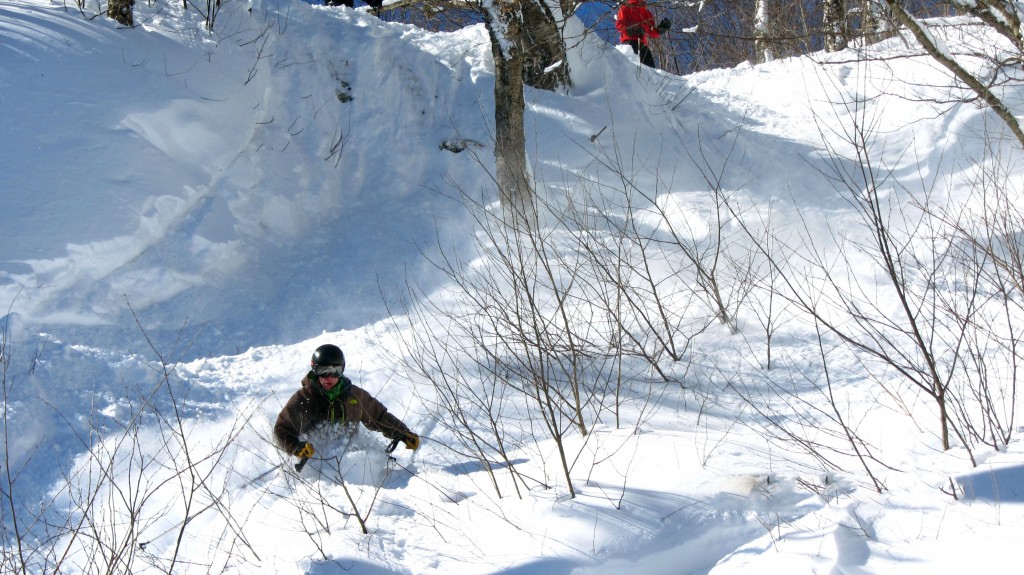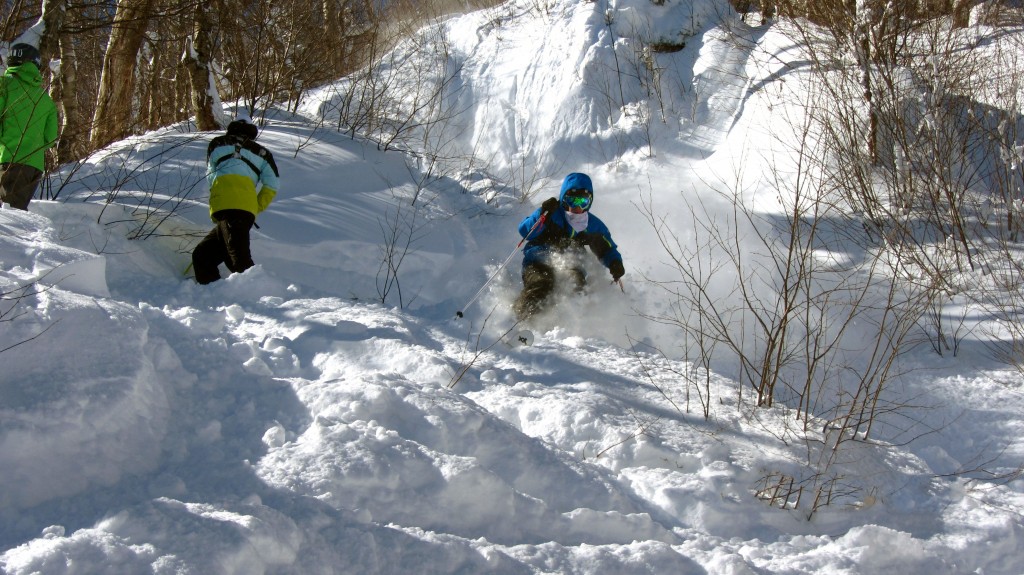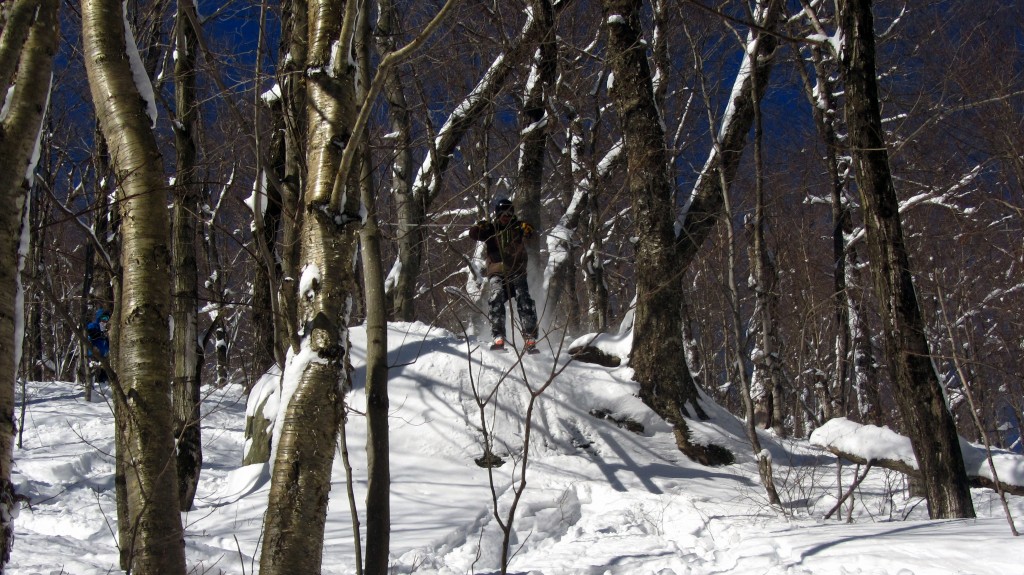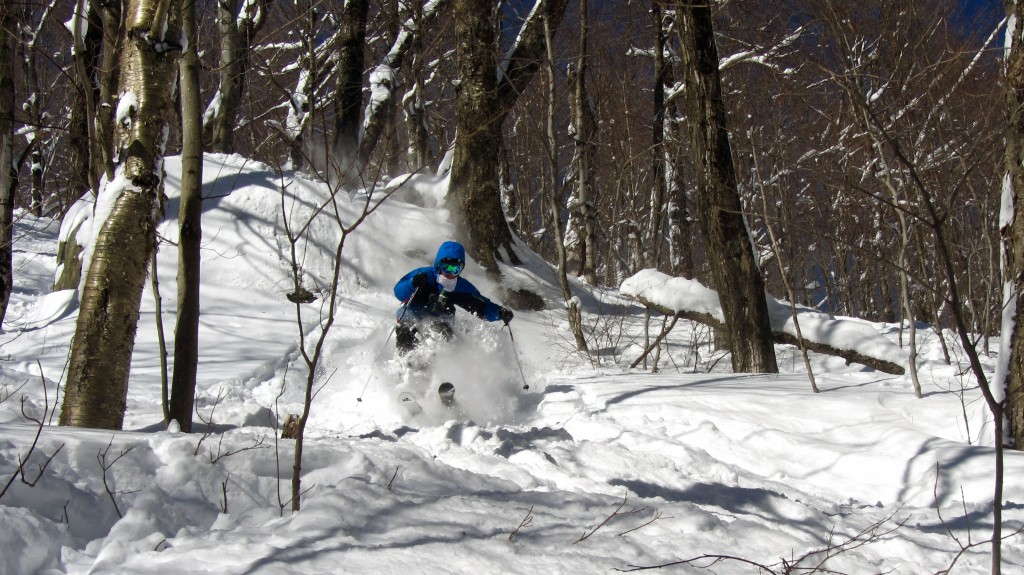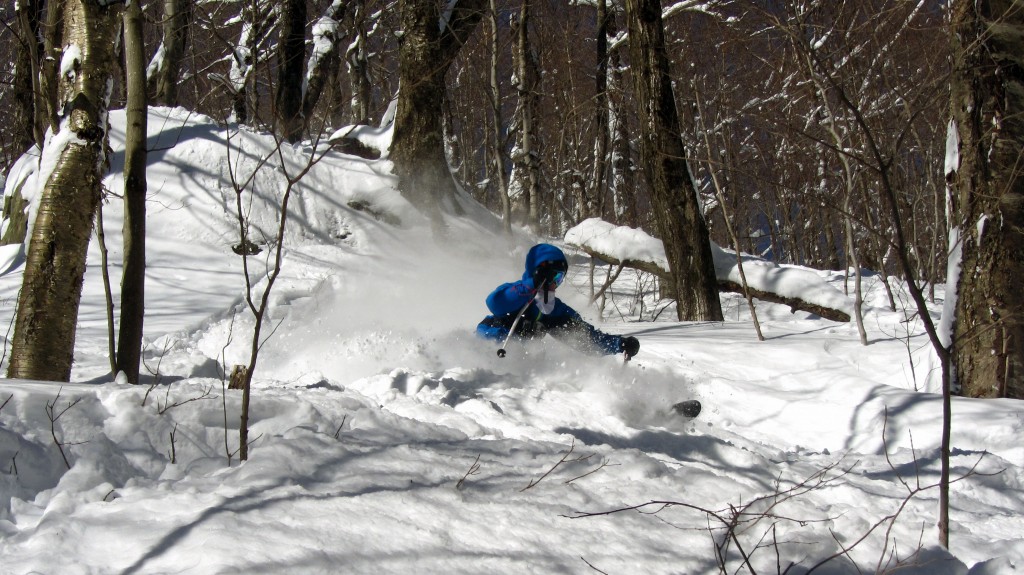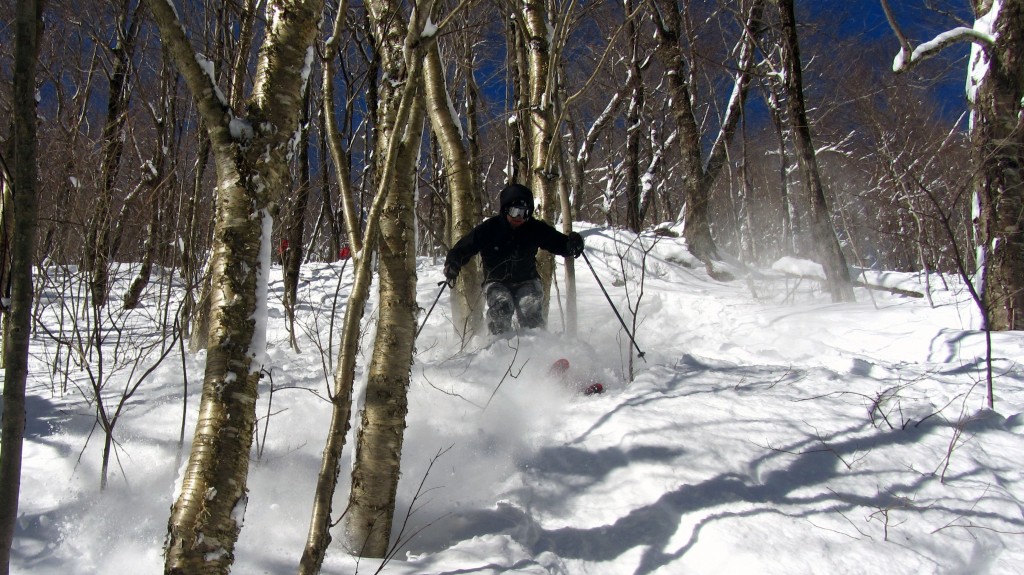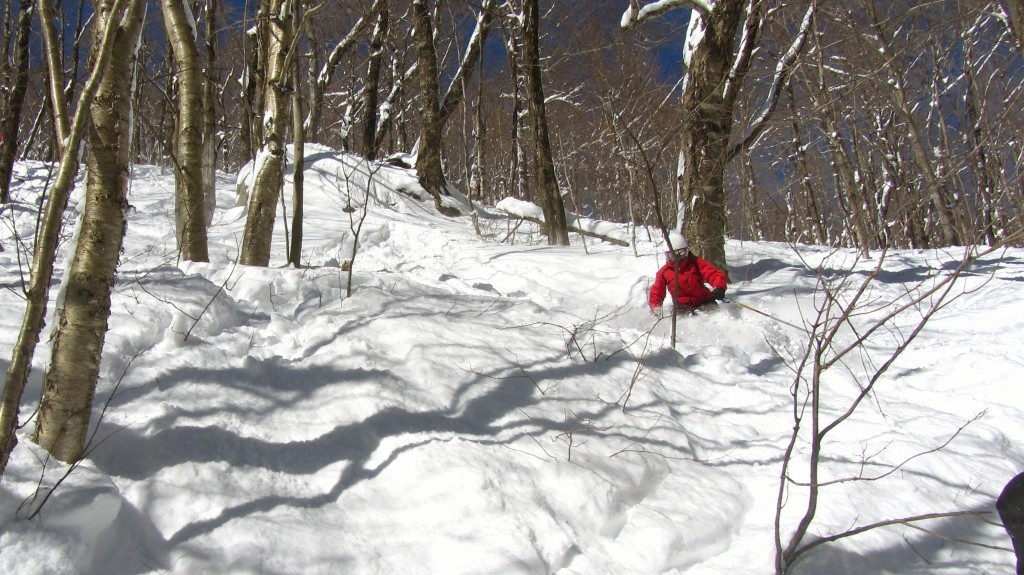 There were also a few (minor) mishaps:
The rest of the day looked like a lot like this.  Eventually we were gassed. But we still couldn't stop smiling.  I'll never forget those turns.
Update: Sweeney posted his goPro footage of the weekend.