Practically giddy from excitement during last Thursday's storm, Rob, Sweeney, and I headed up to Jackson, NH where we crashed at Denaro's.  Rob and I had plans for a mini-ski vacation:  4 days up north.  We were kindly greeted on Friday with ~10 inches of fresh at Wildcat.
Day 1: Wildcat / Attitash
We'd come prepared with coupons galore, ready to get the best deals wherever the snow was.  Wildcat was empty when we showed up, and there was some serious graupel falling that switched back and forth to snow during the day.  I'm going to have to agree with Sweeney's TR here, in his words, it was debatable whether we were slaying gnar or pow, but we were finally slaying something.
We ran laps on a few trails we basically had to ourselves, skiing fresh lines every run.  My Atomic Helidaddy's did pretty well in the steeps, but wanted to sink a bit more on the flats which resulted in skiing the tails a bit.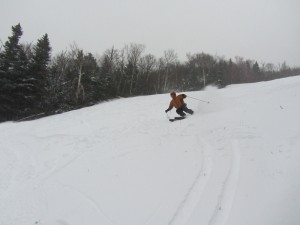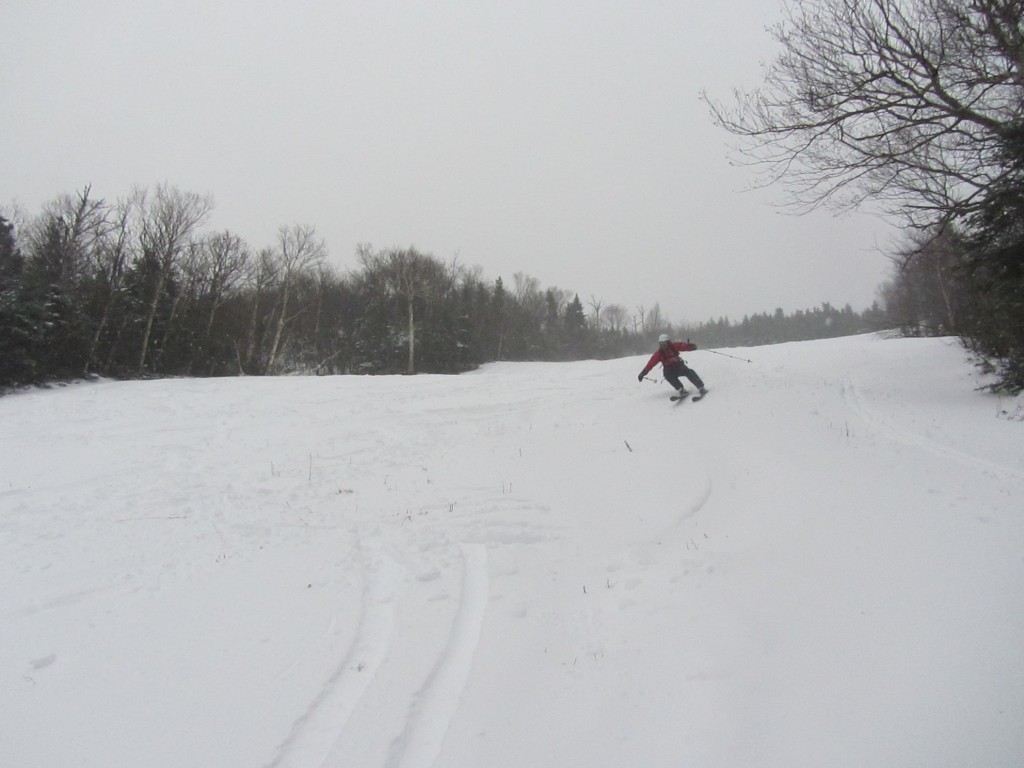 Rob kindly lent me his DPS 138's to try–which were pretty much the best thing ever.  They are basically shaped like two water skis, which makes them butter turns in pow, no matter how far forward you get. I'm sold that rocker and reverse/reverse camber is the way to go in Pow.  We didn't snap any more photos after the swap–we were too busy having fun ripping it up.
We headed over to check out Attitash for the afternoon, which was maybe not the best idea in retrospect since they got less snow and more sleet than Wildcat, but overall I can't complain.  By around 3 pm we'd pretty much skied everything worth skiing, so we packed up and headed to our next stop at Alex's place in Lincoln to meet up with Alex, Denaro, Shane, and Hannah.
Day 2: Jay Peak
We rolled out of bed Saturday at the ungodly hour of 5:15, but as soon as we looked at Jay reporting 14-16″ of new snow overnight we knew it was going to be an epic day.  We got to Jay just in time to stand outside in the 0 degree temps and high winds which was well worth it to get first chair.  Some of the runs we took might have been the first tracks of the season.
Sweeney got some sick POV footage of the woods, see for yourself:
Eventually the winds beat us down and we headed in for the final time to warm up and recuperate.  Sweeney had some nasty looking frostbite that sent him in around lunch, but seems to be making a quick recovery.  My own previous frostbite injuries were acting up as well, unfortunately. We headed back to Lincoln where Rob and I schemed up plans for the rest of the weekend.
Day 3: Smuggs
While everyone else seemed to have had enough of the cold, Rob and I woke bleary eyed at 5:15 again to make the drive up to Smuggler's Notch.  Not really knowing the mountain, we met up with a group of Rob's friends off the TGR forums, and headed over to the resort, which had gotten about as much snow as Jay.  The wind was mercifully mostly still, but the summit temp was a frigid -20 which kept us from doing too many laps.  We skied some trees with the TGR guys, and the ducked off a trail into what looked like a nice open line, but dead ended.  We ended up having to backtrack, bootpacking a few hundred yards in dense woods where we'd unknowingly made the classic mistake of going right where we should have gone left.  Oh well, it was a fun adventure.
At this point I tried to take a few photos, but my camera batteries were literally frozen, so I gave up and we skied a few more runs instead.
Day 4: Touring the Notch
We crashed near the Notch Sunday night and awoke to temps nearing -20 in town.  This was not very pleasant follow-up to the previous days of freezing our extremities, but I think we made the best of it.  Rob's friend directly us to an undisclosed location, where we headed to do a mini tour around 11 when it was finally warming up.  After getting a few turns in, we hiked and then skied out to meet up with another group for an afternoon exploratory tour.  My camera was still complaining of the cold, and in the interest of not giving away any local secrets, again, no photos.
We parked below the ridge we were planning to ski, quickly threw our skins on and got moving.  Soon I was wearing just a baselayer.  I presume it must have warmed up a bit, but it was the first time I can say I was warm while outside during the weekend.  We skinned for about two hours until we found some decent looking steeps and transitioned to hit some untracked lines on mostly low angle woods.  After a bit of traversing we found a logging road where we got up some speed and got to throw the skis around a bit.
Finally, my first non-resort touring! The skiing was well worth the effort.  My new pack seemed to fit the bill, but my borrowed skins were still struggling even on the natural snow.  There was just too much glide due to the skins being ~80mm underfoot on my 99mm waist skis.  Not a good combo.  These seem like they'll do the trick though:
It was a shame to leave even after freezing our toes off all weekend.  This was certainly a memorable weekend.
Edit: In case you didn't believe the temperatures I was citing, here's a pic of the thermostat in Rob's car: