The ski box is on the car, the temps are finally getting low–all we need is a few good storms are we can officially say ski season has arrived.  I got some turns in last Sunday with Sweeney and Rob up at Sunday River, but there's still not much snow even that far north.  The day held a few good bump runs for us with all the snow they were blowing.  I felt pretty coordinated on the slopes for a first day, but my form was a bit sloppy after the 7 month break.
Recently I've been preparing to do some AT skiing this year in the backcountry.  Last night Rob helped me get the new addition to my quiver set-up.  I nabbed a pair of Atomic Heli-Daddys on the cheap, used but still in good shape.  They have a bit of camber, but seem like they'll be good in the woods, even though at 180 they're a bit longer than what I usually ski.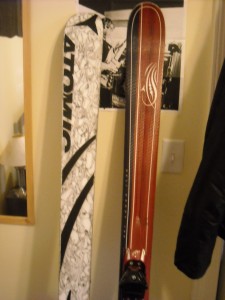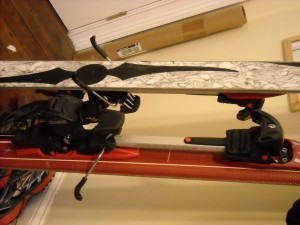 We mounted Fritschi Freeride Plus's on them, which look pretty solid.  This is my first AT binding so I was trying to balance utility with cost.  I was assured they were pretty bombproof, and lighter than Dukes.  Hopefully I'll get a chance to put them through the paces in some serious powder this season.  I have been told that I'll have Dynafit envy soon enough though.  Some lighter boots would probably be a smart idea too….one thing at a time.
I plan to get some mileage on this setup over the holidays.  Rob mentioned putting an early rise on the skis for better float and to decrease the camber.  I want to test them out first but I'll put up  summary of the project if that seems like the way to go.
With the new gear comes the need to do some reading on backcountry safety and I see an avalanche course in my future.  But first I still need all the associated accessories.  I just need skins, a beacon, a probe, a shovel, ….a winter pack…  There's always a seemingly endless gear list for outdoor hobbies, however in this case the first few things really are essential, and I won't be able really make use of my new skis without them.
Now, pray for snow!